Baltic Star Hotel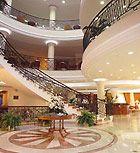 The Baltic Star Hotel of St Petersburg is located near Konstantin Palace. It is a tranquil estate in the southern suburbs near the shores of the Baltic Sea.

This Luxury hotel features 7 room units with kitchen.

Amenities include a swimming pool, gym & sauna.

A taxi is recommended for trips to the city center, which is 30 km away.